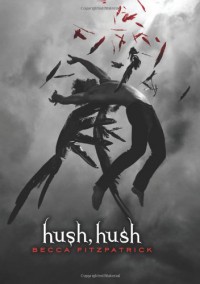 Phew.
I read this book in one day!
One day!
Because of my hectic work schedule, I had less time to read my books which frustrates me a lot. My schedule starts at around 3pm up to 12 midnight. I usually get home around quarter to 1 so I usually read books for an hour or two before I sleep. I started Hush Hush and I didn't stop until I finished it. This book just drew and sucked me in to its pages. I just couldn't put it down.
Nora Grey always sat beside her best friend Vee, but due to her Biology teacher's whim (or so I thought at first), they had to change seats. She then had to sit beside new student Patch. Tall, dark, arrogant, mysterious Patch. There was something about him that felt wrong but still Nora felt drawn to him in all possible ways deny as she might.
Then a series of horrifying events occurred and Nora doesn't know who to turn to. One bad thing after the other Nora found herself running to Patch for help. She knew there was something about him that made her feel safe or was she? Was Patch someone she could trust or was her first instinct correct in warning her that he was dangerous?
Okay!
Where do I start?
I have read a lot of positive feedback for this book which pushed me to see for myself what all the fuss is about. I was surprised to find myself drawn to the book myself by just reading the first few pages. It was like I was under a spell. It was definitely a page turner. My eyes wanted to get some sleep but my brain wouldn't let me until I knew what would happen next. It was that addicting.
Nora was just like any other heroine. She was shy, smart and sometimes she lacks common sense. Also, she was immediately drawn to the lead male character, Patch. Her type of character for me was a little to common for me but still I liked her.
Then there's Patch. I find him hot as hell, which is ironic because he's an angel. He was bad ass and all but he was also vulnerable. He wanted to be human for a girl. He was willing to give up what he wanted to save someone he loved. *Sigh*. Like Nora, I am drawn to Patch whether I like it or not. What Dabria said about Patch was true. He has an effect on people which worked for them and even for me.
One thing I didn't like about this book was Nora's friend, Vee. I
The story was great! I love how the story progressed. I wouldn't say that the thing between Nora and Patch is unique because it felt a little Edward and Bella for me but still I loved this book nonetheless. I enjoyed reading this book so much that I had to come to work the same day with big bags under my eyes. The twists were definitely unexpected which would make you automatically turn to the next page to find out what's going to happen next.
Hush, Hush is definitely one of my favorite reads for this year.